Hi all - I've spent weeks searching this topic - everyone explains what regen *is*, but nobody seems to explain or know *how it works*.
How would my VESC take the voltage from my motor, and then use this to charge up my 58.8volt pack? - especially given that when I am using my brakes, I'm going slower and slower - *way* slower than my motor KV, so my motor is never going to be making anywhere near enough voltage to charge that 58.8 pack with ?
To check that there's no magic I do not understand, I hooked a motor up to a volt meter (to see how much it makes) and an amp meter (to simulate the load from charging the battery, and to see how much current is coming out) - and I put it in a video - long story short - it is less than 1 volt:-
I also put my oscilloscope onto one winding without any load, and it too is less than 1 volt: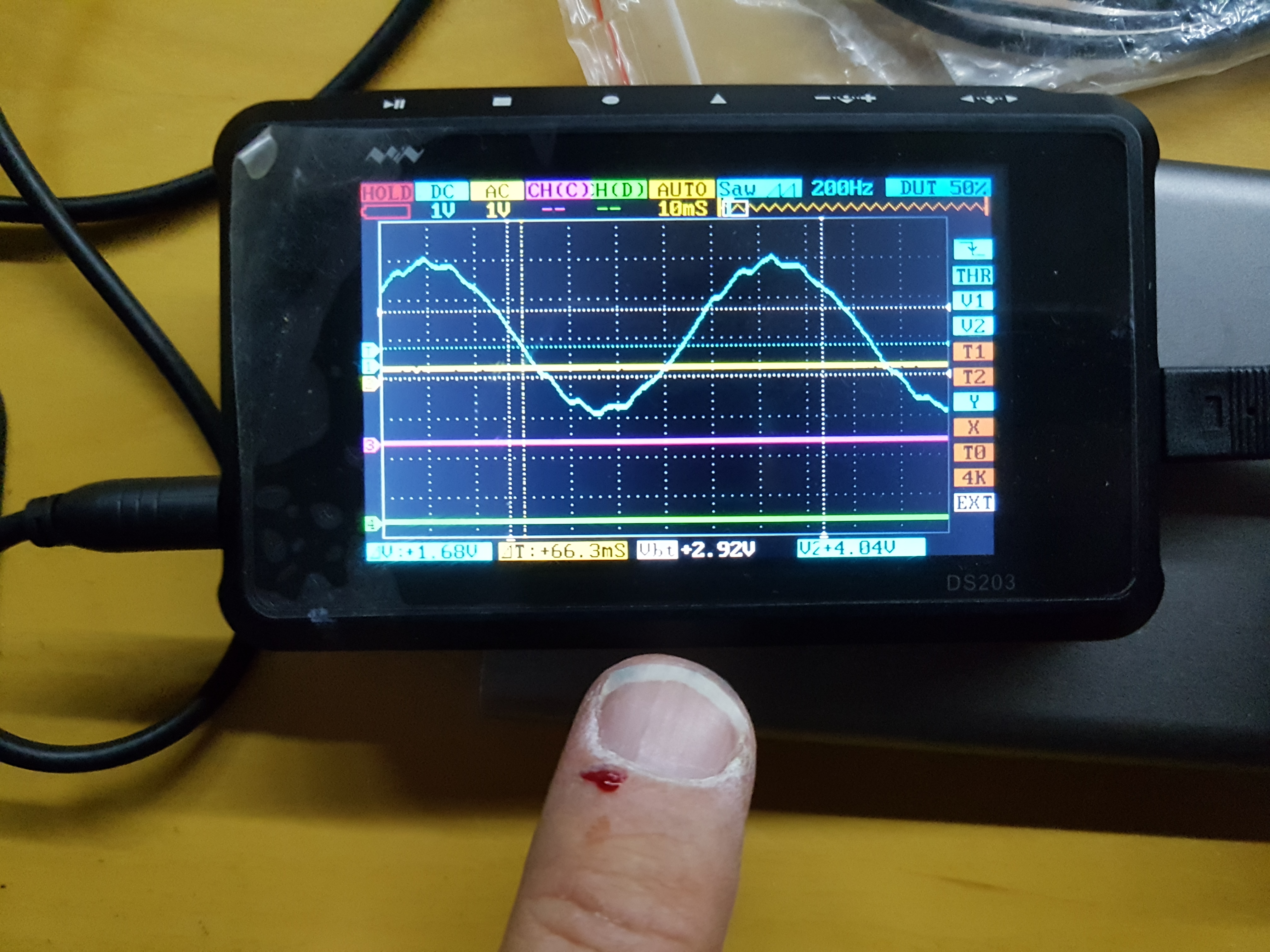 (yes - that's blood on my finger - it got stuck in the windings when I was trying to spin it as fast as I could... ouch!!).  I realize that "in real life" it would be 10x faster than in my office, but that's still less than 10volts - and way under the 58.8v needed.
Most of us here are familiar with charging - to charge my 14S pack, I need to supply 58.8 volts to it.  Technically, and probably not a good idea idea or maybe not safe, it's still possible to charge at anything above 58.8 volts as well, however, anything less than the current battery voltage is not going to cause any current flow at all - so - no charging from 1 volt.
I'm assuming the VESC really does do regen charging (and not just a "short circuit brake"?) - how do it do that?  Is there some kind of boost circuit?  Is there magic with capacitors being charged from the battery, then put in series with the motor to charge the battery from?  Is there some kind of magnetic-inductance managing going on, where a collapsing magnetic field is being added in series to the motor to charge that way?  Is the mere act of trying to drive a motor "in reverse" while it's still turning just happens to have the side-effect of causing a charge to happen?
Long story short - it's driving me crazy trying to work out *how* they did this!!!  Help!?!?!